High-Quality, Custom Parts
From a few hundred to millions — with a size range of a fraction of an inch to six feet long — our automated stamping department can supply the metal-stamped parts you need, when you need them. ATD offers quality metal stampings with consistent performance at a lower cost by using:
Industry-leading equipment
In-process inspections
Preventive equipment maintenance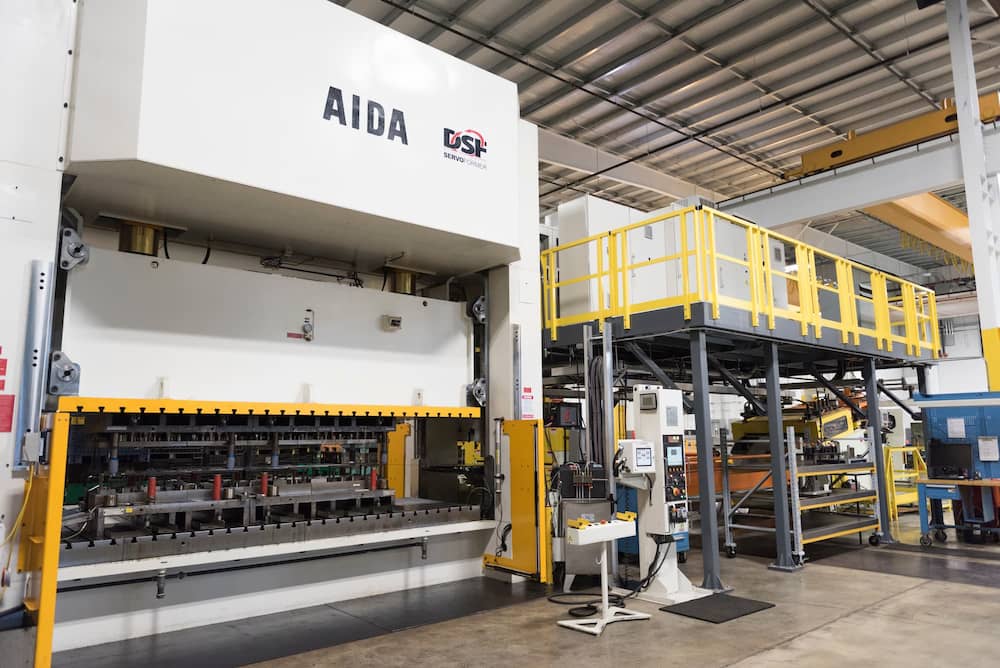 Efficiencies Bring Cost Savings
We built our state-of-the-art facility from the ground up, keeping in mind the most effective and efficient processes in order to provide our customers the best possible value. We do this by:
Using feedlines that allow maximum coil size
Reducing scrap and utilizing an underground scrap system
Streamlining process flow
Removing non-value-added time and labor
Following our customers' pre-production approval process (PPAP)
Performing in-process inspections
Developing a predictive maintenance program
Explore Our Other Services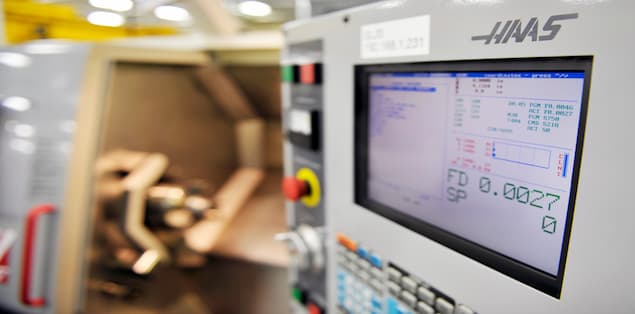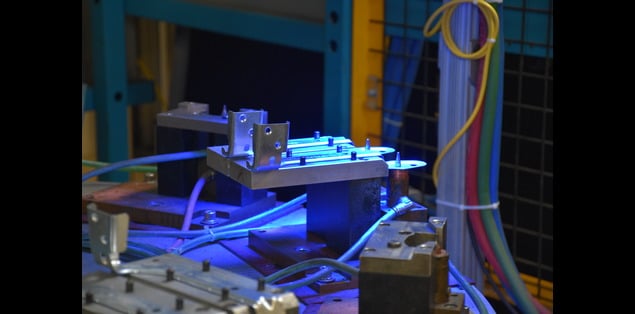 Our Equipment
ATD's investment in innovation includes our cutting-edge metal stamping equipment:
32-Ton Federal Press

60-Ton Bliss Press with Bliss Feedline

100-Ton Minster Press with CWP Straightener and Accra-Wire Pallet Table

100-Ton Minster Press with Minster Feedline

100-Ton Niagara Press with Niagara Feedline
150-Ton Niagara Press with Dallas Feeder and CWP Straightener and Reel

150-Ton Minster Press with Minster Feedline

150-Ton Verson Press

200-Ton Minster Press

220-Ton Mark Seyi Press

250-Ton Niagara Press with Littell Feedline

275-Ton Aida Press

330-Ton Aida Servo Press with Dallas Feedline
330-Ton Niagara Press with COE Feedline

500-Ton Verson Press

600-Ton Minster Press with Minster Feedline

600-Ton Verson Press

700-Ton Aida Servo Press with Dallas Feedline

MayFran Underground Scrap System
Our Metal Stamping Services
ATD is equipped to handle your product needs from start to finish. We provide the following metal stamping services.
Single Hit

Progressive Tooling

Hand Transfer

Robotic Press Cells

Bending

Ironing/Wall Thinning
Hemming

Blanking

Deep Drawing

Piercing

Coining
Cutting

Curling

Shaving

In-Die Tapping

Fastener Insertion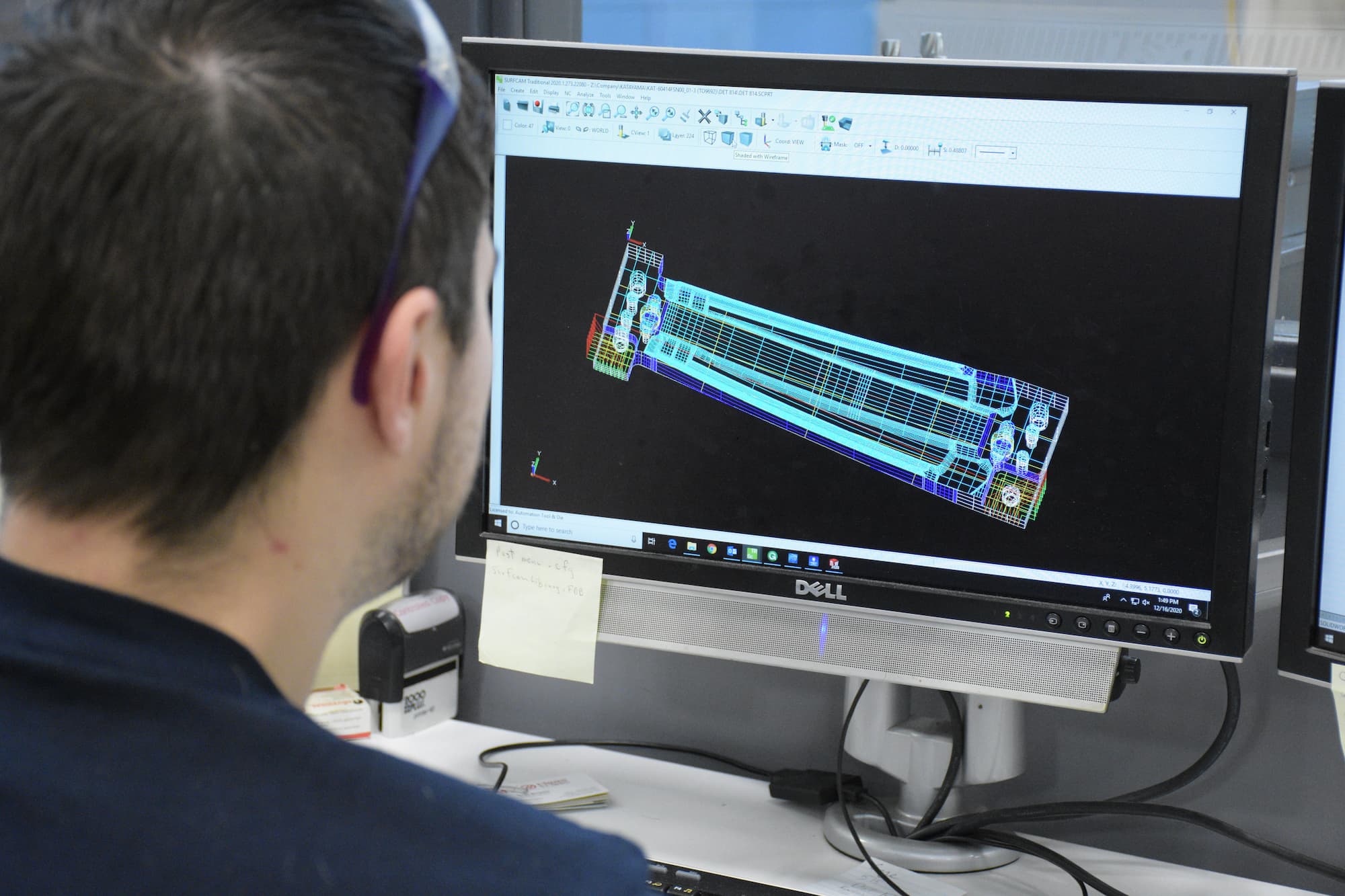 ATD's CAD Expertise Produces Big Cost Savings for Automotive Manufacturer
Learn how ATD saved an automotive manufacturer hundreds of thousands of dollars by using CAD software to pinpoint a failure and design a new part.
"We were able to tell them that if they went down the path they've used for these other tools they've built and are running, this part is going to fail. Right up front, in the very early stages of the laying out of this tool, we were able to get that in front of them — before steel was ordered, before die was set, before a lot of costs were accrued."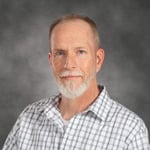 Robert Matis
ATD Senior Tooling Engineer and Estimator
What Our Customers Say
Find out what others have to say about ATD's one-stop shop model for custom, high-quality products and services that are backed by expertise and state-of-the-art technology.
"I appreciate ATD's teamwork environment, philosophy and vision. I am happy to see the family-like environment at ATD and the ATD team's willingness for long-term partnership, which is in line with our owner's vision."
Sales Manager
Automotive Manufacturing Company
"ATD is a world-class organization with a high level of expertise — and we have never regretted partnering with them for nearly all of our stamping and tooling needs since we started working with them in the late '90s. The communication is excellent, and they are transparent in all they do — pricing, quality, working together through any sourcing challenges that may come up from time to time, helping to accommodate us when demand unexpectedly spikes on certain parts — the list goes on. They are a true partner and we consider them an extension of our business."
President
Industrial Manufacturing Company
"ATD has the staff, knowledge, and ability to meet your needs."
Associate Engineering Supervisor
Automotive Manufacturing Company
Discover What We're Capable Of
Partnering with ATD means receiving the quality products, services, timeliness and problem-solving support you need to win more customers.